As a brand new POCT device specially designed for critical cares,MSLAB18 is portable,easy to use and performs a flexible panel tests from a single disposable cartridge.MSLAB18 brings new era of blood gas and chemistry analysis,and it enables you to more quickly and effectively monitor and manage your patients.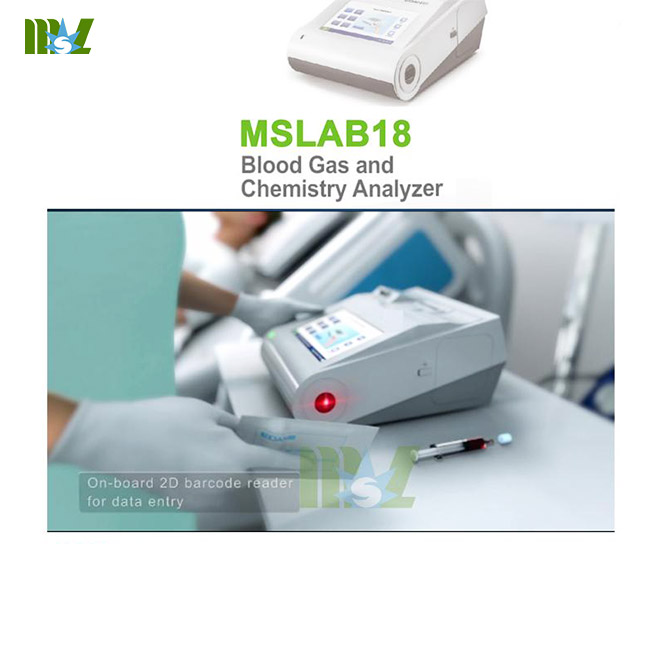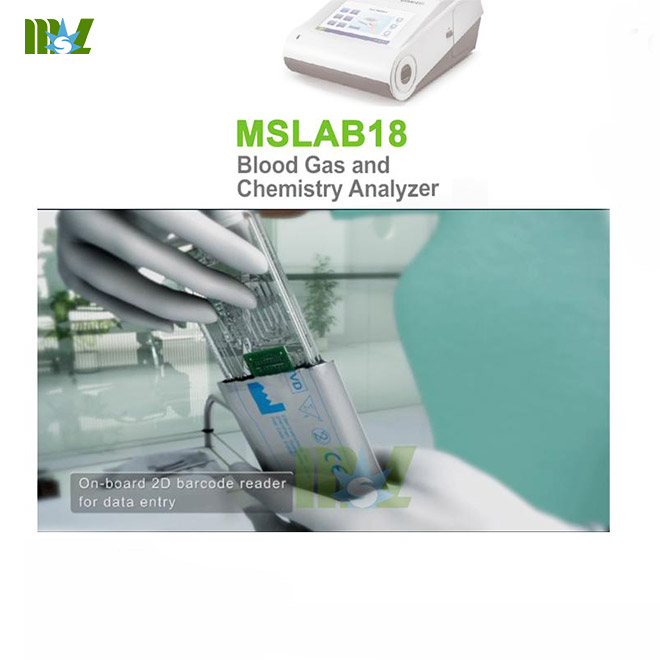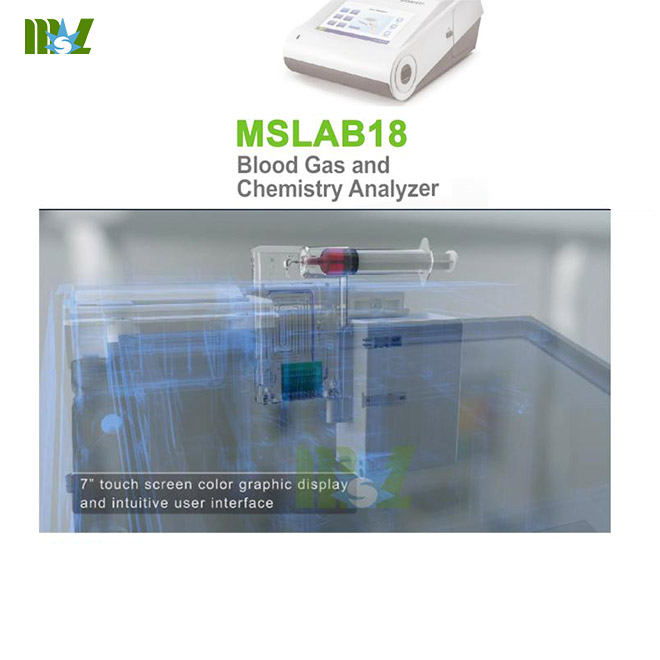 New Blood Gas and Chemistry Analyzer (ABG analyer)MSLAB18 Product Features
Small and portable
Small size(315*238*153mm)
Light weight<4 Kg (including battery)
Build-in high capacity rechargeable battery
Friendly User Interface
Color LCD touch screen display
"traffic light" indicator
Build-in multimedia tutorials
Unique smart cartridge design
Single use cartridge with multi tests
Safety and Environment protection
Long cartridge storage life at room temperature
Convenient operation,accurate and reliable results
standby without consumption and complete maintenance free
Fast,accurate,and convenient build-in auto calibration
Auto sample aspiration assures convenience and reliability
Powerful Data Management
USB ports for data transfer
10,000 patient data storage
Optional data management software
Seamless integration with LIS/HIS through wired or wireless networking
Variety of test Cartridges
BG3: pH ,pCO2 ,pO2
BG8: pH ,pCO2 ,pO2 ,Na ,K ,Cl,Ca ,Hct
BG4: pH ,pCO2 ,pO2 ,Lac
BG9: pH ,pCO2 ,pO2 ,Na ,K ,Cl,Ca,Glu,Hct
BG10: pH ,pCO2 ,pO2 Na ,K ,Cl,Ca,Glu,Lac ,Hct
Future menu in development
BUN/Urea & Creatinine
Coagulation test (ACT,APTT,PT)
Immunoassay panels
Calculated values:HCO3-act,HCO3-std,BE(ecf),BE(B),BB(B),ctCO2,sO2(est),Ca++(7.4),AnGap,tHb(est),pO2(A-a),pO2(a/A),RI,pO2/FIO2,cH+(T),pH(T),pCO2(T),pO2(T),pO2(A-a)(T),pO2(a/A)(T),RI(T),pO2(T)/FIO2,Ca++(7.4)
Calculated values:HCO3-act,HCO3-std,BE(ecf),BE(B),BB(B),ctCO2,sO2(est),Ca++(7.4),AnGap,tHb(est),pO2(A-a),pO2(a/A),RI,pO2/FIO2,cH+(T),pH(T),pCO2(T),pO2(T),pO2(A-a)(T),pO2(a/A)(T),RI(T),pO2(T)/FIO2,Ca++(7.4)
We have been working in the blood analyzer field applications and analyzer products' innovation. After several years of development, now our blood analyzer are exported to more than 110 countries, the United States, Germany, France, Australia, Turkey, Saudi Arabia, Malaysia and Nigeria included. Furthermore, our company has passed the ISO13485 international quality management system certification, CE certification and RoHS certification.
Nowadays, we sell three series analyzer products mainly including Hematology Analyzers, Biochemistry Analyzers and Urine Analyzers. Wide ranges of analyzers such as Hematology Analyzers, Biochemistry Analyzers, Microplate Readers, Blood Gas Analyzers, Blood Coagulation Analyzers, Automatic Blood Analyzers, Urine Analyzers and other special type of analyzer products of which under the unique proprietary core technology in the international blood analyzer leading level.
As a developing Medical Devices team, we pursue the goal of "Healthier in Technology", and adhere to the idea of "Innovating technology, living healthier". Therefore, we have made a contribution for human health in committing and promoting advanced technologies products for many years.
We are looking forward to hosting your guests and hope to cooperate with you from different blood analyzer fields around the world, and we firmly believe that we will make you satisfied with our high quality analyzer products and best serves.
Welcome to bloodanalyzermsl.com, If you have any demand in Blood Analyzer. Please feel free to contact sales@bloodanalyzermsl.com
MSL Medical cooperate with DHL, FEDEX, UPS, EMS, TNT, etc. International shipping company, make your goods arrive destination safely and quickly.
---
---